28 de Julio 2017
FANHUNTER USA
Nota de prensa en inglés, castellano y català.

DEVIR LAUNCHES THE FANHUNTER URBAN WARFARE GAME IN THE UNITED STATES 



The miniatures game inspired in the works of Cels Piñol (Barcelona, 1970) is the first step in their international launch, and is to be followed by card games, role playing games and comic books.


Already showcased at the Birmingham and Ohio Cons, Devir has chosen this August Indianapolis' GenCon to properly launch this adaptation of the popular "big nose" characters, set in a future Barcelona where all expressions of culture and leisure have been forbidden by a tyrant self-proclaimed Pope, Alejo Cuervo.
Alejo is inspired in the real world book editor of the same name and owner of the famous Gigamesh bookshop in Barcelona.


In such dystopic future, Fanhunters and Macutes chase fans of every kind, readers, music lovers, movie buffs, die-hard gamers, TVphiles, etc, who use their nerd lore to battle the forces of evil.


Cels Piñol created Fanhunter 27 years ago, and even though it's already been translated into several languages, this is the first sustained multinational launch. 



Fanhunter Urban Warfare has been designed by David Esbrí, with art by Cels Piñol and Àlex Santaló, and Devir has published it as part of its self-produced games line. 

Devir also holds the worldwide rights of Fanhunter and manages the brand, except for the comic books in Spain -published by Ediciones Gigamesh- and the novels at Panini Books.
An exclusive ashcan comic book which will be printed and gifted at the USA GenCon.
Links of interest:
Fanhunter Dracula, official comic book of the 50th Sitges Film Festival:
http://sitgesfilmfestival.com/eng/noticies/?id=1003410
http://www.fanhunter.com (Fanhunter website)

http://devir.es/producto/fanhunter-urban-warfare/ (Devir)
https://lektu.com/e/fanhunter/9 (digital comics)
https://www.facebook.com/celspinol/

http://www.twitter.com/celspinol




Devir's online weekly comic in english:
http://devirgames.com/fanhunter-comics/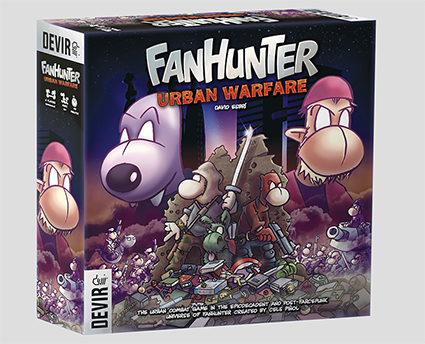 EL JUEGO FANHUNTER URBAN WARFARE SE PUBLICA EN ESTADOS UNIDOS DE LA MANO DE DEVIR
La versión inglesa del juego de miniaturas inspirado en la obra de Cels Piñol (Barcelona, 1970) es la primera fase del lanzamiento internacional, al que seguirán juegos de cartas, juegos de rol y cómics.
Ya se ha presentado en las convenciones de Birmingham y Ohio, pero será en las GenCon de Indianápolis del próximo mes de agosto donde Devir lanzará a lo grande esta adaptación de los populares "narizones" ambientados en una Barcelona del futuro donde todas las expresiones de cultura y ocio han sido prohibidas por un tirano autoproclamado Papa, Alejo Cuervo, personaje inspirado en el librero y editor del mismo nombre que es también el propietario de la famosa librería Gigamesh de Barcelona.
En ese futuro distópico, Fanhunters y Macutes persiguen a fans de todo tipo, lectores, melómanos, cinéfilos, jugones, seriéfilos, etc, que utilizan sus conocimientos frikis para enfrentarse a las fuerzas del mal.
Fanhunter fue creado por Cels Piñol hace 27 años y, aunque ya se ha traducido a distintos idiomas, esta es la primera vez que se apuesta por un lanzamiento continuado en varios países.
Fanhunter Urban Warfare ha sido diseñado por David Esbrí, con ilustraciones de Cels Piñol y Àlex Santaló, y editado por Devir en su línea de juegos de producción propia.
Devir es además la propietaria a nivel mundial de los derechos de Fanhunter y representa la marca, salvo los cómics en España, que están siendo editados por Ediciones Gigamesh, y las novelas que se publican en Panini Books.
Para las GenCon de Indinápolis se imprimirá un exclusivo cómic ashcan que se repartirá entre los asistentes.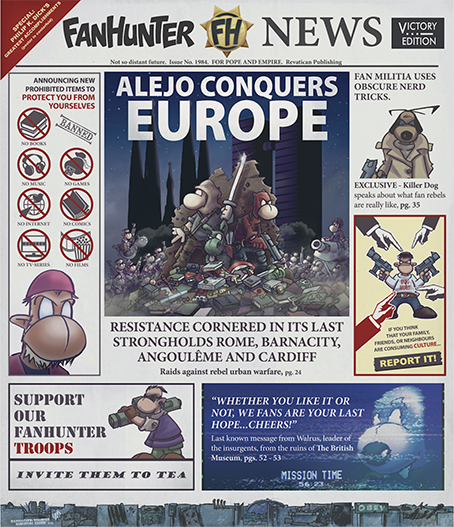 EL JOC FANHUNTER URBAN WARFARE ES PUBLICA ALS ESTATS UNITS DE LA MÀ DE DEVIR
El joc de miniatures inspirat en l'obra de Cels Piñol (Barcelona, 1970) és la primera fase del llançament internacional, al qual seguiran jocs de cartes, jocs de rol i còmics.
Ja s'ha presentat a les convencions de Birmingham i Ohio, però serà a les GenCon d'Indianapolis del proper mes d'agost on Devir llançarà a gran escala aquesta adaptació dels populars "nassuts" ambientats en una Barcelona del futur on totes les expressions de cultura i oci han estat prohibides per un tirà autoproclamat Papa, Alejo Cuervo, personatge inspirat en el llibreter i editor del mateix nom que és també el propietari de la famosa llibreria Gigamesh de Barcelona.
En aquest futur distòpic, Fanhunters i Macutes persegueixen fans de tota mena, lectors, melòmans, cinèfils, jugadors, serièfils, etc, que utilitzen els seus coneixements friquis per enfrontar-se a les forces del mal.
Fanhunter va ser creat per Cels Piñol ara fa 27 anys i, tot i que ja s'ha traduït a diverses llengües, aquesta és la primera vegada que s'aposta per un llançament continuat en països diversos.

Fanhunter Urban Warfare està dissenyat per David Esbrí, amb il·lustracions de Cels Piñol i Àlex Santaló, i Devir l'edita dins la seva línia de jocs de producció pròpia.
Devir es, a més, la propietària a nivell mundial dels drets de Fanhunter i representa la marca, a excepció dels còmics dins d'Espanya, que estan sent publicats per Ediciones Gigamesh, i les novel·les que es publiquen a Panini Books.
Per les jornades GenCon d'Indinàpolis s'imprimirà un còmic ashcan exclusiu que es repartirà entre els assistents.